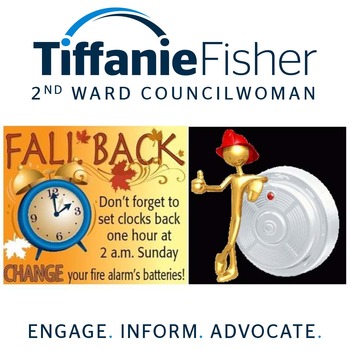 Dear friends and neighbors,
I hope you are enjoying this gorgeous, albeit chilly, fall weather.  If you haven't already, remember to set your clocks back today and take the important, life saving step to change the batteries in your smoke detectors.
I want to extend my congratulations to Mayor Bhalla, Councilwoman Emily Jabbour and Councilman Jim Doyle on their re-election.  And to Councilman-Elect Joe Quintero, welcome to the governing body family – we look forward to his fresh voice and new perspective!  Notwithstanding the political theatrics that you sometimes see, we actually work together well and get a 9-0 vote 95% of the time for what is right for Hoboken.  With our next City Council, I hope that we don't lose our ability to debate issues, that transparency and public involvement will always be held as a critical step to all policy decisions, and that Hoboken's interests will always come first.  I also hope that we will support, not hold against, those who ran for City Council this year and want to join or remain on a municipal board.  
So many have reached out over the past few days wanting to understand better why Hoboken's election results were what they were, having been surprised by the outcome.  I too was surprised and when the winning camp said it was a "strong mandate for status quo" it definitely didn't seem to reconcile with what we had heard from voters.  So I looked into it and this is what I discovered...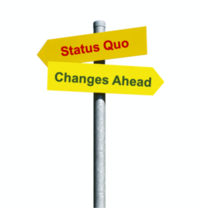 The trajectories of campaigns often change as they advance towards Election Day as more voters are reached and issues are discussed.  And that is exactly what happened this year in Hoboken.  
By the time Election Day rolled around, 
independent  candidates captured almost half the votes on Election Day
.  
At the door and at the voting both, the real message voters gave Hoboken elected officials was approval for status quo, but rather a "mandate for change".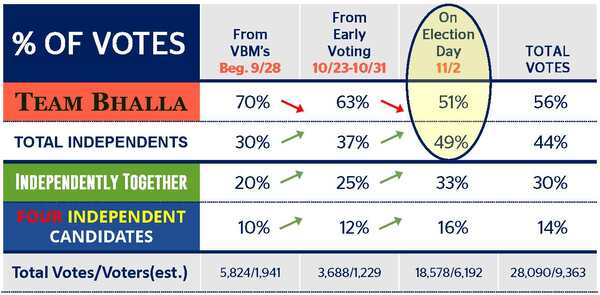 The results evolved from the beginning of the campaign, when the message and most candidates were relative unknowns, to the end of the campaign when the message for change picked up steam and voters learned about the independent voices who were running.  By the time Election Day arrived, the Independently Together slate which I supported and included Cheryl Fallick, Sheila Brennan and Paul Presinzano, saw their vote capture increase from 20% to a third of the vote with this exact message.  Team Bhalla started strong when there was little known competition with 70% of the VBM's, but on Election Day they held only 51%.  What does this mean?

Hoboken voters mandated that their local government change the direction and priorties on important issues that impact their quality of life.  Just because the independents did not win, does not mean that this message calling for change died at the polls.  As an your representative I am personally committed to being part of the solution and not part of the problem, ensuring that the issues raised by voters during this campaign will be addressed and made a higher priority than have been over the past four years.  Issues such as everyday flooding and lack of parking, which were by far the top two issues, followed by feeling unsafe on our streets and sidewalks, housing affordability concerns, infrastructure that cannot support over development, homelessness and lack of recreation programs.  I know many of my City Council colleagues will join me in this advocacy and pushing the Bhalla Administration to make headway on these issues impacting our quality of life.
THE MATH & SCIENCE BEHIND ELECTION RESULTS
Unless you have been involved in a campaign, you may not realize that they are as much about science and math as they are art and rhetoric.  The science and math are always on the side of incumbents going in as they are running on a record, typically start with a larger bankroll and brand awareness, and usually have established communications channels – like email and media - they can leverage for their advantage.  All of this and more came into play in this election: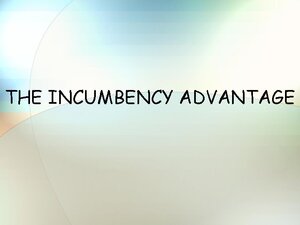 Money Talks - Elections are expensive and those with the most money often win

.  When campaign funding is limited, spending is targeted to when people are most likely to be aware and voting. Team Bhalla had the financial backing from the mayor who had about $200,000 in his arsenal and also had a professional campaign manager (the city's communication director) being paid $10,000 per month.  Seven candidates had to initially self-fund, had campaigns run by volunteers and started fundraising activities only after they were on the ballot in early September.  

ADVANTAGE TEAM BHALLA
Finding Voters – Voter data is a decided advantage

.  Access to an app driven voter data system (aka "the van") that directs you to voters who have the greatest probability of voting is a decided advantage.  Team Bhalla was granted access to New Jersey's statewide system and Independently Together's request was rejected and had to purchase it through the national voter data system.  My guess is the four remaining independent candidates, if at all, only accessed the county voter data which is a big spreadsheet that has not been updated for about 20% who have moved or passed away.  

ADVANTAGE TEAM BHALLA WITH INDEPENDENTLY TOGETHER JUST BEHIND
Emails are Campaign Gold - The cheapest way to deliver messaging

.  Mayor Zimmer gave her email to Mayor Bhalla who then lent them to his candidates.  Independently Together cobbled together some emails lists, but certainly not with the same reach as Team Bhalla.  The other independent candidates had access to very few emails.  Add to this that Mayor Bhalla has used the city's Nixle emergency system to communicate with residents daily for the past two years and if you look closely, it was repeating the positive messages around COVID and avoiding messaging on anything controversial. 

ADVANTAGE TEAM BHALLA 
Timing is Everything - VBM voters were targeted first 

because they could vote as soon as the voter receives the ballot.  

Here is where Team Bhalla got a jump start and helps explain a lot of the gap between the incumbent-led team and the others

: 

ballots hit mailboxes on September 28th

with funds, a marketing firm and campaign manager on retainer, Team Bhalla had their websites up early and sent three city wide mailers (@ ~ $11K each) that hit mailboxes before the ballots arrived and importantly - before voters knew there were other candidates competing for City Council.

Independently Together's volunteer-led marketing effort got their website running and their first mailer to those with VBM's four days after the ballot arrived; Ian and Cindy had their only citywide mailer out around the same time. 

In those few days where Team Bhalla was the only known candidates to most, almost six hundred people had already voted. 
There were at least 1,940 voters who voted by mail during the election, most having voted in the first few weeks, and the incumbents received approximately 70% of these votes.  
ADVANTAGE TEAM BHALLA
Mailbox Election – Reaching Voters.

  Mailers are expensive – printing and postage combined costs about $.60 per mailer and the design costs another $.50 at least.  I counted eleven city-wide mailers by Team Bhalla that my guess is cost $125,000.  Independently together sent five which I estimate to be around $30,000 as they had volunteers do the design.  And Ian and Cindy sent one together – a clever one that could be opened and use as a window sign on the back (note to self…) - that probably cost around $12,000.  Can you see how money talks in an election?  

ADVANTAGE TEAM BHALLA
THE RESULTS AND WHAT'S NEXT
I am not suggesting that without these advantages that the outcome of our elections would be different.  Team Bhalla candidates had a lot of support.  We have had some major successes under Mayor Bhalla that are important to our residents including, most importantly, our public health and safety relating to how COVID was handled, protection of our waterfront, the expansion of parks and open space and support for small businesses, in particular.  In general people love Hoboken and ascribe that feeling to the strength of their existing government.  But when you dig a little deeper you find that the seven independent candidates gave incumbents a run for their money. 
With a late start and in just 8 short weeks after the ballot was set, after 
Team Bhalla tried unsuccessfully to have three of the independent candidates removed from the ballot,
 all seven candidates combined limited the incumbent-led team to just over 50% of the vote overall, and came out almost even on Election Day. Why? Because when they eventually got to the voters, independent candidates came with the right message:  Hoboken voters want change 
in direction on quality of life issues that this administration has not prioritized or has actually taken measures against.  Issues such as:
Lack of any proactive steps to everyday flooding. 

 We learned in this election is that the NHSA only cleans out our sewers once every three years.  This seems like a logical place we could make a change that could have an immediate, big impact.

Vanishing parking spaces and more cars.

  Lack of parking singly impacts the quality life of most people in Hoboken every day.  The solution cannot just be a war on cars, it has to include an understanding of this necessary amenity for so many of our residents and a focus on solving.

Feeling that our streets and sidewalks are less safe

.   Vision Zero can no longer be only bump outs and resurfaced roads.  It must include resident input to create a culture of safety that residents deserve which includes reduced speed limits, all-way stops at intersections and more enforcement of our traffic laws.

Little vision around development and its impact on the community.  

Team Bhalla said more development will improve everyday flooding.  I can tell you that no discussion exists around the impact of significantly increasing our population and what demand does to our sewers, our water, our traffic congestion and the capacity within our schools. 

No focus on affordability concerns

.  Concerns about rising rents, rising property taxes, low wages, rising transportation and parking costs and rising food prices impact Hoboken residents of all income levels.  This administration's response to date has been to gut the rent stabilization office, offer rent relief that favors landlords, and hire an inexperienced elected official to run a new housing division (to keep her from running in this past election).  This. Just. Needs. To. Change. 

Insufficient recreation offerings.  

The Bhalla administration needs to stop making redevelopment decisions as election driven ones and actually sit down and plan for the needs of our community including a state of the art community center and pool.  We have literally made zero headway in four years.  Whether it is working with the team at the former Y to rebuild it or building a new community center next to the NW Park, or both.  Hoboken needs to figure out how to make this happen ASAP.

Homelessness.

  As Paul Presinzano said during a campaign debate, for such an important issue, we need to have more than a headline grabbing task force that has only met three times since 2018 and whose only accomplishment was these "homelessness donation meters" in December 2018: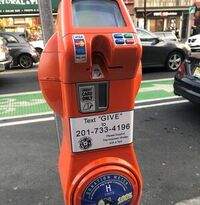 These are the big issues we heard about on the campaign trail this year.  And they aren't going away – as a matter of fact, status quo policies will only make these worse.  Voters have given us marching orders and a mandate 
to make changes in these areas to improve our quality of life.  I am in and ready to work together with Mayor Bhalla and my City Council colleagues to make this happen.
MORAL OF THE STORY – FOR NEXT TIME

The moral of the story here is that candidates who want to run for office need to start earlier next time, and need helping hands to be successful.  And next time is just two years away. In 2023 there is a unique opportunity for first time candidates, but to be successful, you need to start soon.  The highest office that is up for re-election that year is the relatively unknown office of State Senator.  That means that there is no Governor or Federal level office that will bring people to the polls.  Also that year are all six ward City Council seats (including mine), and our County Commissioner seat is up as well.  Additionally, if Mayor Bhalla is successful in a run for Congress in next year's primary (which all but ensures election in November), we may also have a special election for mayor in 2023 when he takes offices. 
So now is the time to start thinking about what office you may want to run for.  In January, let's get together and actually talk about getting started. The theme for 2023 will be "leveling the playing field."  Contact me anytime if you are interested in running - even if it means running for my seat - and lets get together in the New Year to make it happen. 

I want to thank all of the independent candidates who ran but were unsuccessful individually in their quest to be elected.  It is hard to run for office.  It takes money, an offensive amout of time away from your family, friends and day to day life, and a lot of grit to talk to so many strangers asking them to elect someone they have never heard of.  You should all be so proud of what you accomplished this year and I hope that each of you remains active and finds other ways to be an even bigger voice in our community.  It is because of all of you that democracy in our local elections was somewhat preserved this year.  And I hope you will continue to be a voice defending it in the future.
I hope this gives you a little more color around this year's elections and helps you make sense out of the results.  Lessons learned for next time...  As always, please forward to anyone you think may be interested in receiving this.  Feel free to email me at [email protected] or call me at 201-208-1674 to discuss what you have read or anything else that is important to you.
Hoboken City Council, 2nd Ward
Engage
.
 Inform
.
 Advocate
.