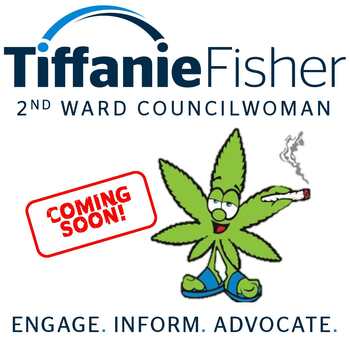 Dear friends and neighbors,
It's here.  Coming soon to a storefront near you: Recreational/Adult Cannabis Dispensaries.  
On 
Thursday, February 24th, beginning at 7pm
, the City's nascent Cannabis Review Board will be hearing the first three applications seeking local approval to operate Adult Cannabis Dispensaries at the following locations:
51-53 14th St. -  Old Hudson Tavern space
128 Washington St. – Between Sparrow Liquor and Ace Hardware (old Precious space)
516 Washington St. – Next to Charrito's (old Pho-nemon space)
These are not medical dispensaries, rather they are each recreational/adult use dispensaries.  In all three cases, the applications suggest that they will allow consumption on site.  IF YOU NO ANYONE WHO RESIDES IN OR NEAR THESE BUILDINGS AND MAY BE AFFECTED BY THIS, CAN YOU PLEASE FORWARD THIS TO THEM SO THEY ARE AWARE?
It's important for the public to attend these and provide feedback.  Here is the zoom details to participate:
As an FYI, the city continues their email grab efforts so you will be asked to give your email to participate which I do not believe is allowed for a public, municipal meeting. 
The Cannabis Review Board is just one of many steps required before a dispensary can open.  If Hoboken's CRB approves it, then it still has to go to through the Hoboken Planning Board where the public has another opportunity to be heard.  And nothing can happen until a license is approved by the state – a process that, according to 
THIS ARTICLE
, doesn't start until March 15th and favors equity applications and impact areas first.   That said, it could be as early as this summer / fall when these dispensaries, if approved, could be open.
WHERE CAN THESE BE LOCATED IN HOBOKEN?
It is probably easier to say where they cannot be located – which is in any Residential (R1, R2 or R3) or University Zone.  The rest of Hoboken is either a commercial or industrial zone, where they can be located by ordinance, or a Redevelopment Area, which the City Council then can approve and write Cannabis dispensaries as a use into a plan.  See Hoboken's zoning map below.  If you have a question about a specific location, you can go to the zoning map web tool by clicking on the map: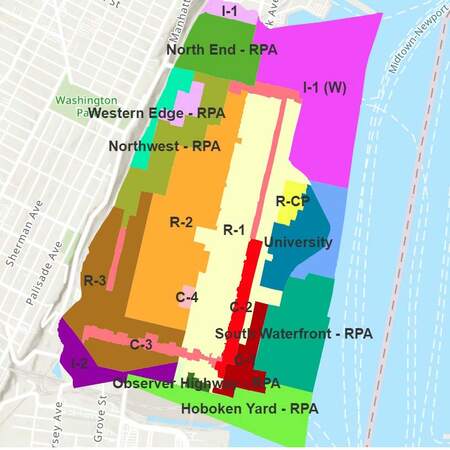 For my 2nd ward neighbors who are in an old industrial zoning designation – I1-W(waterfront) which includes Maxwell, Shipyard, Hudson Tea (all 6) and Park & Garden - I had this area excluded when the ordinance was first presented in 2018.  Additionally, during the master plan re-exam process in 2017 I asked that this area be converted to a residential zone which has been recommended in the re-exam report. 
ARE THERE ANY RESTRICTIONS IN TERMS OF # OF LOCATIONS AND / OR PROXIMITY TO CHILDREN AND HOUSES OF WORHSIP?
Very little.  Originally Hoboken's ordinance was going to restrict the number of licenses to a handful city wide.  But this was removed entirely so now the city have as many retail dispensaries as possible in the areas described above and that fit within the following restrictions:
Can't be located less than 500 feet from each other
Can't be on the same block frontage as a primary or secondary school.
The State Law gives jurisdiction to the municipality in terms of putting in place proximity restrictions relating to schools, day care and houses of worship but these are all that the administration instituted.  Right now, for example, if a dispensary wanted to move into one of the shops between Dunkin Donuts at 7th and Washington and the children's tutoring company Mathnasium, directly across from All Saints Church and Day School and Hoboken Charter, nothing in our ordinance or in state law prohibits this. 
IS PUBLIC NOTICE REQUIRED?
For the Hoboken Cannabis Review Board, No.  For the Hoboken Planning Board, Yes – to all property owners within 200 feet.
WHO SITS ON THE CANNABIS REVIEW BOARD? 
Council President Mike Russo, a designee of Mayor Bhalla (currently Hoboken Business Administrator Jason Freeman) and Hoboken's Health and Human Services Director Leo Pellegrini.  So effectively two elected officials and city employee.  The CRB, although public, is not an independent board and has no members of the public on the board.  And they hold a potential license holder's future in their hands.
ARE THERE ANY RESTRICTIONS ON CAMPAIGN CONTRIBUTIONS THAT POTENTIAL LICENSE HOLDERS CAN MAKE? 
No.  This is currently missing from Hoboken's local pay-to-play and campaign finance reform ordinances.  Thankfully, however, state law does include the following reference which does seemingly prohibit applicants from contributing to election campaigns or even Super PACs that support candidates, especially those who sit directly or indirectly on Hoboken's Cannabis Review Board:
(i) A county or municipality government official shall not solicit from a cannabis business, and a cannabis business shall not offer, anything of value in exchange for zoning approval, proof of local support [aka Hoboken's CRB], or written approval for such cannabis business, or take any other action that would violate 
N.J.S.A. 40A:9-22.5 of the Local Government Ethics Law
.

Back on October 23, 2018, I sent out a newsletter asking for feedback on whether you supported cannabis dispensaries – both medicinal and recreational – coming to Hoboken.  I ultimately received about 200 responses with 95% supporting medical marijuana dispensaries.  Support for recreational dispensaries in Hoboken was much less, although not decisive with about 40% favoring 60% opposing, heavily weighted with 2nd ward responses at that time.  I asked for this feedback primarily because I didn't know if my own views reflected those I was elected to serve:  personally, although I 100% support decriminalizing marijuana, because of the unique characteristics of Hoboken where we are a pedestrian city sharing sidewalks everyday, all packed in together like sardines with tons of kids… I just didn't think then, and still don't think, that retail dispensaries belonged in Hoboken.  I welcome any and all input from you to improve our current laws to best protect the quality of life of our residents.  I have a few ideas already (like adding a notice requirement for the CRB)…
Whether you support these locations or oppose, please take the time to join the meeting, given feedback and also listen to the discussion.  Please forward to everyone you know who may be interested in this newsletter.  Feel free to email me at [email protected] or call me at 201-208-1674 to discuss what you have read or anything else that is important to you.
Hoboken City Council, 2nd Ward
Engage
.
 Inform
.
 Advocate
.