Dear friends and neighbors –
Next Tuesday, October 15th, there will be an 
IMPORTANT COMMUNITY MEETING
 to get your input on a revised HOBOKEN YARDS REDEVELOPMENT PLAN.
When:        October 15th, 7pm
Where:       Multi Service Center, 124 Grand Street
What:         Presentation on Amended Hoboken Yards Redevelopment Plan
My guess is that for most of you, you are hearing about this for the first time.  As of this writing the administration has not yet sent out any communications on what is the single biggest redevelopment in Hoboken and one that has a long history of public participation.  The amended plan was before the City Council last week for second reading but Councilman Cunningham and I led the effort to table the ordinance until after public input could be sought.  Although not unanimous like it should have been, the Council voted 7-1-1 in favor of holding at the very least a public meeting prior to any vote of the City Council. 
After you read this, I would like to also get feedback from you on your thoughts on the proposed changes.  This was a very controversial plan last time around but the City Council approved it 8-1 in December 2014.  
This article
 I think gives a good description of some of the history behind this project that began as a 9.8 million square foot (SF) project with towers soaring as high as 78 stories.  The one that was 
approved in 2014 was for 2.3M SF
 with an emphasis on much needed commercial development.
The new proposed amendment suggests the project is now being reduced to 1.4M SF, but that is misleading.  What is really being proposed is two 300'+ buildings totaling 1M SF - one of the two buildings is commercial and the other is residential - and improvements to Warrington Plaza and a portion of the Terminal.  No additional buildings are planned, but the developer actually retains the option to build an additional 1.3M in the future subject to accommodating our Rebuild by Design anti-flooding project that is earmarked to be built at an angle through the middle of the HRY site.    
I think having a world class terminal at the entrance of Hoboken is great for Hoboken and I would like to see progress made in that direction.  I personally am ok with some height and density there (as opposed to the interiors of Hoboken) but prefer that the W remains the tallest building in Hoboken.  To me this is centered around making the area a commercial hub along with the SJP properties buildings just north, with little to no additional parking built in the area and activating Warrington Plaza.  This type of development could bring: an important and missing source of tax revenue to the one location where it could definitely work in Hoboken; more of a daytime population to help support our businesses; a place where Hoboken residents might actually be able to work and not have to commute to leave town; and complementary commuting instead of more commuters competing with Hoboken residents for space on the already crowded PATH, ferries and buses.  In terms of significant residential development close to the terminal, I am less in favor for reasons that are the opposite of those listed above. 
There wasn't a good side by side visual provided but these two superimposed together give you an idea (in both cases 2014 is at the top of the graphic).  In this first one, you can see the RBD structure as a purple line going through the site in the bottom picture and the "lost" (aka future development) area in light yellow.  In the 2014 plan the commercial office components are closer to the terminal and the residential components further west.  Under the revised 2019 plan the buildings closer to the terminal can now include residential.  The other noteworthy piece which I think is a huge positive is that the 2019 plan now calls for a revamping of Warrington plaza and the ferry terminal whereas the 2014 one did not.  (for a clearer picture, click on the 
city memo
, page 4)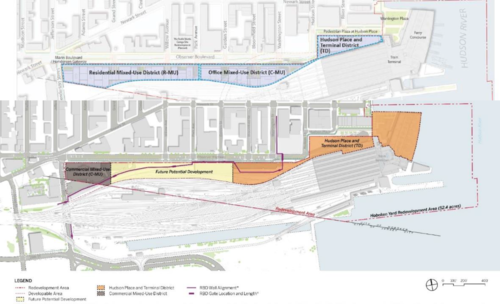 In the next graphic you see the building massing. The building closest to the terminal increases 50% from 200' to 300' to accommodate building over the bus terminal.  The second building remains the same height at 330', although wider and less deep to accommodate the restricted site and use changes from commercial to residential.  And the buildings that are most west are targeted to be commercial although the revised plan specifically indicates that those buildings are not expected to be built for a while until the RBD project is built and NJ Transit makes structural changes to their site. 
(for a clearer picture, click on the 
city memo
, pages 1&2)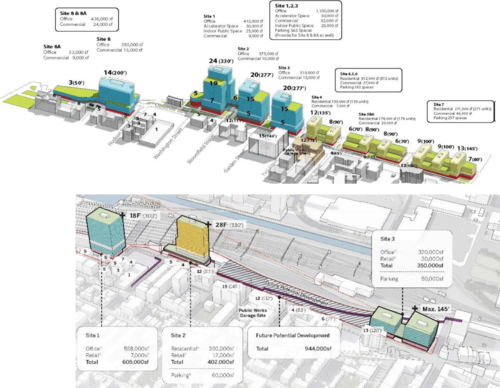 One of the takeaways presented at the Council Meeting was that the overall mix of the development remains close to the same as the 2014 plan (2014/2019): 67%/68% commercial, 25%/29% residential and 8%/4% retail and other.  However this is somewhat misleading as it includes a future commercial site that may never be built to keep the averages similar across years. 
When you do an apples to apples summary you see that the commercial density closest to the Terminal decreases from 91% to 59%.  And given we know residential development is most desirable for developers in Hoboken to build, if the entire plan is built out as permitted, the commercial component could be expected to be as low as 40% overall (vs. 67% in the prior plan) with the residential component potentially more than doubling.  This is a big departure from what was originally intended.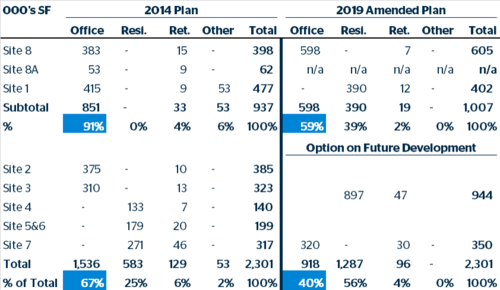 Of note the prior administration focused, and to me correctly, on ensuring that the commercial was built before any residential.  This revision now explicitly says phasing of the development will be determined by market conditions (aka – allowing residential to be built first).
WHY THE RUSH AND LACK OF TRANSPARENCY?
The City has sent out 
12 community Nixle alerts since September 18th
 on such topics ranging from an invitation to a park groundbreaking to free tickets to Propelify to the mayor calling a special meeting for a non-binding, resolution as an election-related, political maneuver. 
 But no Nixle alert or any other transparency on the biggest project Hoboken has seen in decades.
I think the reason the administration is pushing this through probably has to do with leveraging the upcoming elections.  Tragically it is just how things work these days.  And I mention it here because I want it on your radar.  Remember the last time a City Council person voted against a large development and 
received political attack ads
…
I completely understand that this project has sat stale for a long time and was turned upside down with Rebuild by Design.  I, like most of the City Council, met with the developer for the project, LCOR, a few weeks ago to hear about the project as well as the considerations effecting timing.  Normally we agree a redevelopment agreement first – this is the contract with all the teeth – and concomitantly approve an amended plan.  But because there are still a number of moving parts and some near term deadlines for LCOR, they have asked for us to amend the plan first.  It is worth noting that no critical studies have or are planned to be completed before this approval including traffic, economic and shadow. 
I do believe the developer has tried to move the ball forward in way that contemplates the interests of Hoboken and that they have worked closely with all stakeholders to – NJ Transit, DEP/RBD and the administration – to try to create a workable plan.  And there are many aspects of this plan that I support.  But the one stakeholder missing from that list is the public.  The pendulum feels as though it needs to swing back a little in our favor for the project to work and I don't see the rush to exclude the public other than the upcoming election.   

As you know, I am not afraid of bringing transparency to controversial topics.  This isn't our first rodeo.  
When the administration did not inform the public on having Marijuana dispensaries in Hoboken, 
I made sure you were aware
 and demanded 
a public meeting
 for such an important topic.  
When the administration didn't share publicly they were rezoning Stevens's campus with significant height increases, I 
made sure you were informed and sought your input, 
called for a pubic meeting and ultimately ensured Stevens would work with Hoboken on any future buildings.  When the administration kept quiet the fact that the Hilton Hotel was actually 20% bigger than what the City Council had approved, 
I made sure you knew
.  
And when the administration didn't bother to inform the public and address concerns about the 5g poles being installed on our sidewalks citywide, 
I did
.  
We are elected to make tough decisions but I feel strongly that we have to be honest and transparent when doing so. For those who have embraced the phrase "reform" in the past you know these are fundamental to reform and we should demand from all elected officials.   
Thank you to everyone who donated this weekend to my campaign!  My first ELEC report has been sent!  I hope everyone can join tonight for my 
#MOREVOICES (and Mojitos!) event
 at La Isla Uptown from 630-8.  For anyone who has already donated please come as my guest!  
As always, please forward to anyone you think may be interested in this.  And feel free to email me at 

[email protected]

 or call me at 201/208-1674 to discuss what you have read or anything else that is important to you.  
Thank you again for your support!  Looking forward to seeing everyone tonight!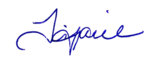 Hoboken City Council, 2nd Ward
Engage
.
 Inform
.
 Advocate
.