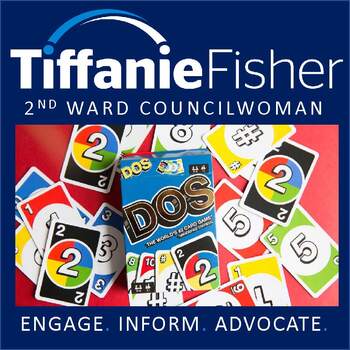 Dear friends and neighbors,
20 Years - 10 Traffic Related Deaths in Hoboken
14th & Hudson Intersection Improvements
Umbrella Attacker Caught / Arrested
1600 Park Soccer Pitch Repairs
Rent Control Amendment Ordinance
5g Poles on the Waterfront?
Staple Needs at Hoboken Community Center Pantry
Uptown / Downtown Walkway Repairs and Upgrades
Union Dry Dock – No Change
Not Ur Regular Coffee – Ovarian Cancer Fundraiser 
Hoboken Small Business Spotlight
20 YEARS - 10 TRAFFIC RELATED DEATHS IN HOBOKEN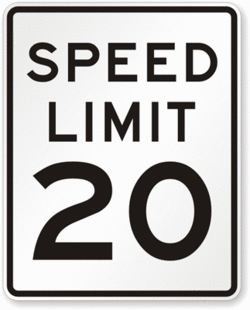 Hoboken's new 20 MPH speed limit goes into effect this week with the installation of new signs.  I fully supported doing this not as a way to catch more people speeding, because as noted recently there have almost no violations for speeding issued in a long time.  I am more excited because it shows a step towards proactively enforcing speeding and reckless driving which has been the largest contributor to the ten traffic related deaths Hoboken has experienced in the past 20 years.  
There has been a lot of media coverage lately about Hoboken's great record of having four straight years with no traffic deaths – primarily being attributed to proactively building curb bump outs (and probably more likely COVID in two of those years…).  But I think an even better record that is little known is that twelve out of the past twenty years, not just the past four, we have had no traffic related deaths in Hoboken.
Although it frustrates most of us daily in some way, our narrow, one-way street system with cars parked on both sides and stop signs at most corners is what contributes the most to our history of low traffic related deaths in Hoboken.  See the chart below: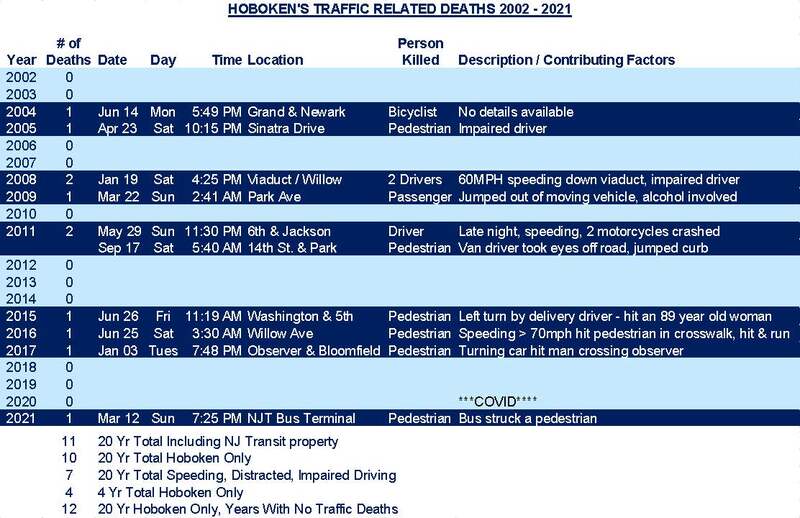 In the eight years in dark blue, there were sadly 10 fatalities, ten too many.  Most of which related to speeding, impaired and distracted driving which are the highest contributing factors in most years according to annual state data.  And where they have occurred in Hoboken – Sinatra, Viaduct, Willow - is not a surprise.  On our long, often two-way stretches of road with little traffic impediments.  Public Safety Director Ferrante has said that it is these streets in particular that will be the shared focus of enforcement by Hoboken PD and Hudson County Sherrifs under the new 20MPH laws.  I think we all look forward to seeing this.
But what I also hope will happen is more DWI checkpoints (for alcohol and cannabis) and sending a zero tolerance message to those coming to Hoboken to get impaired that Hoboken takes pedestrian safety seriously.  Non-residents BTW caused all but two of Hoboken's traffic related deaths.  Here are some recent state statistics about alcohol related traffic deaths: 
2020, of 587 traffic related deaths in NJ, 178 or 30% of these people died as a result of Driving While Intoxicated (drugs or alcohol).   

2019, again 30% or 165 died as a result of DWI.

2018, the ratio was 29% or 165 people.
I fully support any effort by Mayor Bhalla, Director Ferrante and Police Chief Aguiar to ramp up enforcement of impaired drivers as part of Vision Zero.  
14TH & HUDSON INTERSECTION IMPROVEMENTS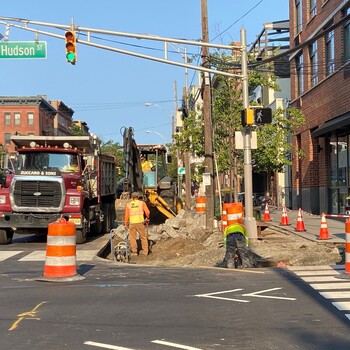 Improvements are underway for the four corners of 14th & Hudson.  Because of all your input, I have advocated for change at this intersection for a while as it has been challenging for residents and visitors to the area including ADA ramps that are too steep (and crumbling), pedestrian lights that do not turn on unless the button is pushed, and 14th being a wide street to cross.  The project is a partnership between Hoboken and the County and the result will be extended curbs with improved ADA access, rain gardens and fully modernized, pedestrian friendly traffic lights. 
You may have noticed this as you walked by: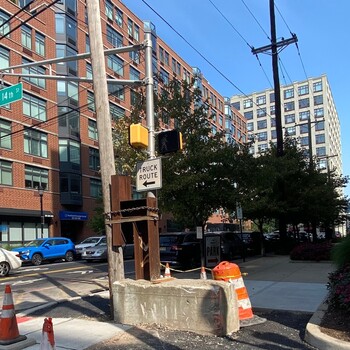 While digging, this PSEG pole became unstable so the contractors had to install temporary reinforcements.  PSEG is aware and will be addressing this once the new traffic lights and mechanicals have been installed.
Finally… for those who continue to be concerned about increased loitering in the area of the proposed dispensary at the former Hudson Tavern site (myself included), I confirmed with the County on Friday that the extra-large bump out at that corner is actually going to be almost entirely a rain garden, fully landscaped with no new room for pedestrians to linger.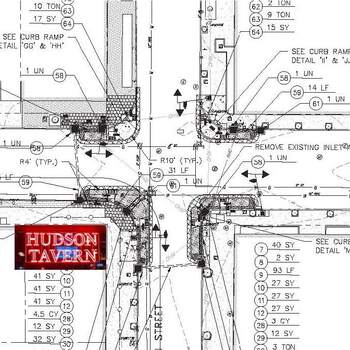 UMBRELLA ATTACKER CAUGHT / ARRESTED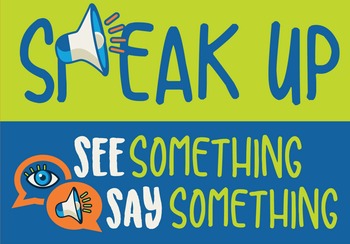 2nd Ward and Uptown residents were walking on egg shells earlier this week after hearing about a man, who appeared to have had a mental crisis and attacked two residents with an umbrella.  I wanted to let everyone know that Hoboken PD have arrested him and taken him into custody.  One important note – this arrest happened because witnesses spoke out on social media, shared pictures and spoke with Hoboken PD about what they saw.  If you see something, say something. 
It sounds cliché but public safety is really a partnership between the public and our public safety officials.  They cannot be everywhere and see everything and need people like those who helped identify this attacker to bring people to justice.  Thank you to all who saw something and said something that helped contribute to this arrest.  And also to Chief Aguiar who put up with my constant nagging on this this week.
1600 PARK SOCCER FIELD REPAIRS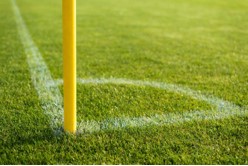 Soccer season is back!  Fun fact:  I was a youth soccer coach for 9 years in my late teens and twenties.  And I love seeing all the kids involved in this sport in Hoboken.  For those watching kids play at the 1600 Park Field (a 2nd ward gem!), you may have noticed some tears in the pitch.  The City Council approved a resolution last spring to fully restore / replace the turf which will happen after the end of the season in November, during the off season.  Until then Director Pellegrini will be monitoring the field and making necessary repairs.  If you see any areas in particular, don't hesitate to reach out to me and I will let him know.
LANTERN FLIES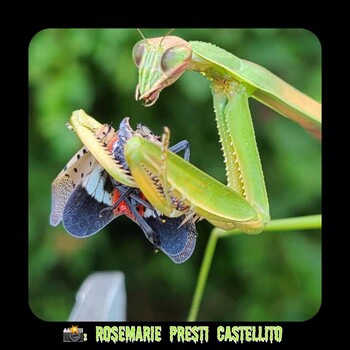 You can't unsee it.  This crazy photo was taken by one of our neighbors and posted on line.  Like a bad sci fi movie.   Another fun fact, I didn't realize praying mantis' could fly…until last week when I saw one on the sidewalk next to my building  and it flew at me with what looked like a 10" wing span… you can't unsee that either. 
Thank you to everyone who is doing their part to Stomp Them Out, especially a certain friend of mine who does not want to be named but has gotten an average of 30 / day.  It warms my heart to see kids and adults alike doing the Lanternfly Stomp Dance.  I actually think we need to set up a Hoboken Tik Tok page just for this.  Seriously – if I knew how to use Tik Tok I would do this…
But even more seriously… they are still a problem in Hoboken.  I worked with Director Gonzalez who updated the city's website with some helpful advice on what residents can specifically do if they see an infestation whether on their own property or a neighbors - 
How Can We Manage the Spotted Lanternfly? (hobokennj.gov).
If you see an infestation on someone else's property, call the HCRHC and email [email protected] so that the city's Department of Environmental Services can inspect.
RENT CONTROL AMENDMENT ORDINANCE
It is still on the agenda, but it has been carried to the next meeting, again. 
The two sponsors – my colleagues CVP Jabbour and CM Doyle – still insist on keeping this on the agenda even though it does not have City Council or the mayor's support in the current version and we will not be voting on this version.  At issue, and why a couple of us have asked that they remove it, is that it is causing angst with many tenants and property owners alike in this current form as most believe this version has gone too far to punish landlords and would incentivize landlords to actively pursue ways to divest, legally or illegally, of rent controlled units and exacerbate Hoboken's displacement problem.  Which is something most of us want to avoid.  I hope that my colleagues change their mind for the sake of our community and remove this ordinance from the agenda and put forth whatever revised version they have.
5G POLES ON THE WATERFRONT?
As I have mentioned in the past, around 2017ish, when the big telecom providers started coming to Hoboken like ATT to install new 5G poles, I worked with Hoboken's then business administrator to create a process whereby the City Council reviewed and worked with the providers to optimize locations.  A tough, and thankless job as you can imagine.  As a reminder, the federal law gives telecom companies an unfettered right to install new poles basically wherever they want, but we can work with them to identify more preferred locations.  This led to an ordinance in 2020 with established guidelines and to creating a separate review subcommittee which I am still on and includes two members of the public as well – a member of the planning board and a member of the Historic Preservation Committee.
This week, Extenet, which is a third party intermediary working currently for TMobile to provide infrastructure (locations, poles and technology) for 5G poles came to town and wanted to install them up and down our waterfront where we have little above ground utilities.  After losing my mind and even reaching out to Mayor Bhalla (frantically, multiple times) to help stop the insanity of soiling our precious waterfront… I was talked off a ledge and we (City Engineer and our legal counsel) met with Extenet and were able to come to a good compromise concerning both design and location.
Unlike the less attractive poles we see sprinkled across the city, Extenet will be installing poles that look like and match our current light poles with the technology more camouflaged within the pole.  Here is a side by side of what they are proposing vs. what we have seen to date: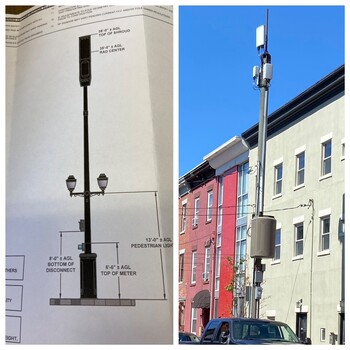 Are they awesome?  No.  Are they better?  Much. We also agreed on improved locations that better fit within the design of the waterfront and the surrounding buildings, and in one case actually results in better lighting for an area.  There will be three of these poles on Sinatra between 1st and 4th, at the corners.  There will be two on North Sinatra between 12th and 14th.  The positive is more bandwidth available in increasingly populated areas of Hoboken.  And I think we all came away feeling like we are better informed about what is possible from a design stand point and will be updating our ordinance to reflect this.  More to come...
STAPLE NEEDS AT HOBOKEN COMMUNITY CENTER PANTRY

The Hoboken Community Center Pantry occasionally needs specific items that they are running low on, or are having difficulty sourcing
.  Three that they could use more of right now are:
1lb or 2lb bags of rice (white or brown)
10-12 oz boxes of cereal (non sugary ones).  This size fits better in bags than the larger ones.
Here are some Amazon links for specific items in case you want to buy some to donate. 
The pantry hands out about 450 bags of groceries every two weeks to Hoboken families (and in a few cases, families from neighboring towns).  Even $20 worth of these groceries can help feed 6-10 of these families.  
Delivery address is Hoboken Community Food Pantry, 1301 Washington Street, Hoboken NJ 07030.  If easier, you can deliver in person on Thursdays between 900-1100 or just let me know and I will swing by and pick them up.
And you can also donate any reuseable bags you get to the pantry as well.  They use these to pack bags of perishable produce on distribution day.
WATERFRONT WALKWAY REPAIRS AND UPGRADES
The city has plans to install a new walkway along the former Monarch site creating a safe and more accessible connection between the North Sinatra Drive waterfront and the Weehawken Cove waterfront.  Additionally, the city will be repairing the portion of the Weehawken Cove waterfront that is on the west side of the cove that has been in a state of disrepair for a while.  BOTH PROJECTS just await DEP permits which I am told they expect to receive any day.  Once these are in hand, they will bid out both work and hopefully begin the projects by November.  In early 2023, the city will begin a public process to build a temporary, "pop up" space to activate the parking lot area of the former Monarch site.  So start thing about what you would like to see there – Community garden? Dog area? Seating area?  Pickle ball?
Improvements are underway to upgrade the bikeway along the waterfront walkway from Pier A to Pier C.  The best part, to me, is finally connecting the bikeway to the waterfront walkway at both 4th Street and Newark Street.  They will also be upgrading signage and surfaces, adding benches and planting new vegetation in the area.  Additionally, the City Council just passed a resolution to fund the much needed railing repairs along the entire walkway.  
UNION DRY DOCK - NO CHANGE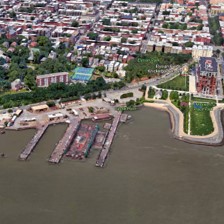 Nothing to report here.  The update remains the same – there are several parties that need to come together on the issue including Hoboken, NY Waterway, and Governor Murphy, 
who all signed the MOU two summers ago
.  But also Weehawken and NJ Transit.  I was last told last week at the City Council meeting that things are still moving forward to an agreement which, assuming the terms are the same, would have Hoboken acquiring Union Dry Dock and NY Waterway building their operations hub in their current location.
NOT UR REGULAR COFFEE – OVARIAN CANCER FUNDRAISER
September is Ovarian Cancer Awareness Month.  According to the CDC, ovarian cancer is the second most common gynecologic cancer in the US.  By now hopefully you have stopped by for coffee at the Not Ur Regular Coffee pop up under the arches at the Hoboken Museum.  It is run by two hoboken residents and baristas  - Wendy Benitez and artist Estela German.  In honor of Wendy's mom who passed from Ovarian Cancer, they are hosting an event on September 24th with food, activities and guest speakers with all proceeds going to the 
Tell Every Amazing Lady
 foundation which raises money for Ovarian Cancer.  If you are interested in being a sponsor, please email 
[email protected]
 or stop by in person and grab a delicious coffee M-F 7-3, and Sa – Sun 9-4.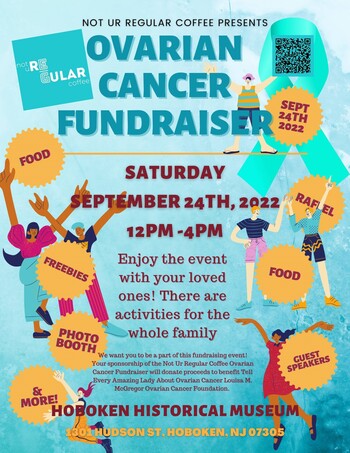 HOBOKEN SMALL BUSINESS SPOTLIGHT
I don't even know where to start.  This place is sooooo gooood!!!!!  I first had a Mr. Wraps about five years ago on Election Day.  They have an exhaustive list of sandwich choices ranging from the #5 – BBQ Pork Wrap with creamy potatoes to the #12 Taco Wrap which is exactly how it sounds to #26 the meatless wrap which has BOTH fresh mozzarella and roasted peppers… in a wrap!  #33 incredible choices of giant wraps – and yes, they have gluten free wraps.  Their claim is #morethanwraps and they have lots of other choices and an extensive catering menu too.  But I go for the wraps.  And I am working my way through all 33.  Check out their website and then visit them at 8th and Garden.  
Hoboken (mr-wraps.com)

So... no cannabis you ask?  Just wait... that is part 3 and possibly 4... 
As always, please share this with anyone you know who may be interested and reach out any time on any issue important to you: 201-208-1764 or 
[email protected]
.   
Hoboken City Council, 2nd Ward
Engage
.
 Inform
.
 Advocate
.