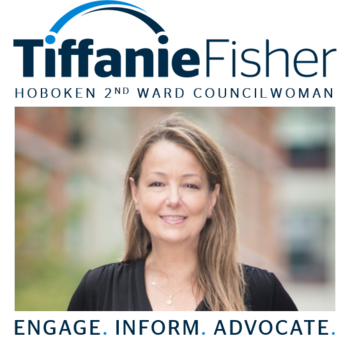 Dear friends and neighbors,
Tonight at the City Council meeting, 
there is a resolution on the agenda for the City Council to approve the Blue Violets dispensary at 628 Washington Street.  
This proposed dispensary is just over 200 feet from Hoboken Charter and All Saints Day School, that many believe violates Hoboken's laws.
  The resolution is following last week's Hoboken Planning Board hearing for Blue Violets where, surprisingly to most who were present for a number of reasons, the planning board unanimously approved the application. At the hearing, a member of the public announced pursuit of a legal challenge of the Hoboken Planning Board's decision to "grandfather" Blue Violets' application even though Blue Violets submitted their application after Hoboken's Common Sense Cannabis regulations went into effect.   
I hope that 
my colleagues will consider delaying tonight's vote until after the Hoboken Planning Board votes on the official resolution of approval in a couple of weeks so the legal issue can be properly vetted.  If not, I hope they will join me in voting against this dispensary to not only uphold Hoboken's Common Sense Cannabis actual regulations that went into effect in April, but also the spirit of it.
As a reminder, Hoboken's Common Sense Cannabis regulations were signed into law by Mayor Bhalla just two days after the Hoboken City Council voted 8-1
 and these laws included, among others, prohibiting dispensaries from being within 600 feet of any primary or secondary schools and reinstating a maximum number for dispensaries – six - that had been errantly eliminated altogether the previous summer.  Blue Violets submitted their application to the planning board after these laws went into effect and therefore were subject to the state's "Time of Application" statute applying exclusively to Land Use boards (Planning and Zoning) that basically says the laws in place at the time of application are the laws that apply. 
Prior to the planning board considering it's review of the Blue Violet's application for its completeness (and therefore able to be scheduled for a hearing) in June, I was joined by former All Saints parent and neighbor Liz Urtecho and Councilwoman Giattino on a letter we submitted on June 14th to the HPB attorney and secretary outlining in detail with legal references how the Blue Violets application was in violation of Hoboken's laws given it was initially submitted one day late and lacking in most necessary requirements until months later.
Our letter - 
link
 and full text below - was given to Blue Violets, whose lawyer submitted a reply brief saying, and I am paraphrasing, they believed the Cannabis Review Board is a "land use" board and therefore the "Time of Application" applies to when Blue Violets submitted their application to the CRB back in January.  This is not based in law, and so far has not been supported by any other land use lawyer since… including Mayor Bhalla, a land use lawyer himself, who described to a neighbor in an email that the CRB is
"a local 'advisory board' with no legal authority to 'approve' or 'deny' any given application.  They can just vote to provide a report recommending or not recommending the application move further in the process, and state the reasons why.  Ultimately the dispensaries will require support from my office, the City Council and the Planning Board, all of which are binding requirements."
The HPB attorney and chair, on July 7
th
 at the subsequent completion hearing, quietly accepted Blue Violets' position and allowed their application to progress to a formal hearing, with no acknowledgement or discussion of the issue. 
Because of the precedent setting nature of the HPB's 'grandfathering tied to CRB application date' decision - whereby other dispensaries who submitted much less robust applications to the CRB prior to April 28th may now benefits similar resulting in many more than 6 dispensaries in Hoboken - the administration should challenge this decision as I asked at our last City Council meeting.  
Unfortunately, neither our letter nor Blue Violets' lawyers response brief were circulated to the rest of the HPB commissioners nor added to the official record of the application.  So when this was introduced during public comments at the hearing last week, the other commissioners scrambled to understand.  Several HPB commissioners asked questions about this potential law violation and the HPB attorney assuaged their concerns by responding with factually incorrect statements and saying his memory was unclear.  
To say keeping a material issue from voting commissioners and the public is unusual is an understatement. 
Although to me the Time of Application issue is most relevant, it is worth mentioning that the hearing itself on the substance of the application was unusual as well.
The 51% owner and operator of the woman owned micro business never spoke.  Only her husband, the 49% owner, did.

The 49% owner seemed to not be able to answer basic questions about the proposed operations of the dispensary including contradictory statements about expected volumes of people and ability to manage queus.  

The applicant also chose not to provide any testimony on the layout / design of the dispensary or traffic – which is 100% atypical - even though they had their professionals there. 

The HPB engineer expressed concern about voting without this testimony and also said pointed out that it was interesting that the applicant said the dispensary coincidentally can only accommodate 19 people total, when 20 triggered the parking requirement, and yet chose not to provide the necessary testimony to support this.

The applicant did provide a professional planner who said the dispensary met all conditions – of the wrong ordinance including the 600 feet rule.  And when pointed out by the public that it was the wrong ordinance, all he could say is "then I retract my testimony".

The applicant testified that he spoke with the school leadership at All Saints an Hoboken Charter and they were supportive.  A member of the public read into the record the letter the two school heads had sent to the City Council correcting this statement.  W

hen the applicant was asked who he had spoken to at the schools, he said didn't want to disclose this.

A few HPB commissioners announced before the vote was taken that they didn't believe that dispensaries should have to abide by one of Hoboken's Cannabis laws (which is a condition that has to be met).
There was and still is a lot of head scratching and anger about this application - I actually took liberties and took out some of my frustrations on Councilman Doyle after the end of the hearing which I regret.  But these decisions beg so many questions about this application - why is there such urgency to approve it?  Why is there such a the willingness to suspend typical requirements necessary for approval?  How can our community who fought so hard to put in place safeguards for our schools, turn the other cheek on this one.  Who is really benefitting?    

Tonight's meeting can be viewed on 
Facebook
 and 
YouTube
.  If you want to come and voice your opinion on this resolution - whether for or against - the public comment period will be close to the front of the meeting. 
I was interviewed on Hudson County View this week and covered topics such as the HBA's New Executive Director and Proposed Blue Violets dispensaries.  
Click to watch
 - starts around minute 3.  As always, please share this with everyone you know who may be interested and reach out any time on any issue important to you: 201-208-1764 or 
[email protected]
.   
Hoboken City Council, 2nd Ward
Engage
.
 Inform
.
 Advocate
.
Dear Scott and Pat,
As you may be aware, the application for the Blue Violets dispensary is controversial with many members of the public reaching out to us and other City Council members about the proximity to two schools including many parents of children who attend those two schools.  In April, the City Council and Mayor approved Commonsense Cannabis Regulations that, among other provisions, prohibited dispensaries from being within 600 feet of a school.  These laws went into effect on April 28th. Under NJ's "Time of Application" law as recently interpreted by the NJ Supreme Court, Blue Violets, who submitted their application to the Hoboken Planning Board on April 29th after our laws went into effect, would violate this law as it is closer to 250' away from both Hoboken Charter and All Saints Day School.   
Here is the relevant timeline: 
On April 6th, the City Council passed Common Sense Cannabis Regulations that included, among others Section 196-33.1(I) of our zoning code which says that the location of a dispensary cannot "be located within 600 feet in all directions of any primary or secondary school".  In this instances, 628 Washington St. is approximately 200 feet from each Hoboken Charter School and All Saints Episcopal Day School.
On April 8th, Mayor Bhalla signed the ordinance into law (see attached).
On April 28th, the law became effective per NJSA 40:41A-101 and 40:74-4 which says that a law "shall not take effect before 20 days from the time of its final passage".
According to responsive documents for a recent OPRA request concerning this matter, it wasn't until April 29th that the Blue Violets Applicant submitted its MLUL application to the Hoboken Planning Board, one day after Hoboken's new cannabis laws went into effect.  Although it was well within Blue Violets' control to have submitted their application to the Hoboken Planning Board as early as April 22nd, the day following the Cannabis Review Board hearing. 
We know that the Cannabis Review Board, which is just an advisory board, treated the applicant as being "grandfathered" at the time of the hearing which was a week before our new laws came into effect.  This should have no bearing on how the Hoboken Planning Board applies the "Time of Application" laws that have specific jurisdiction on what is a separate land use application and process.
This is an important decision.  And we hope that our Planning Board will uphold our local laws that were put in place because of public input and supported by the Hoboken governing body, and not continue with this application.  If the Board feels differently, we would ask that you provide a legal opinion supporting this position prior to any further action on this application.
For reference, our understanding of NJ's "time of application" law, 40:55D-10.5 – Development regulations, certain, govern review of application is that it says two things:
1.      Those development regulations which are in effect on the date of submission of an application for development shall govern the review of that application for development and any decision made with regard to that application for development. 
2.      Any provisions of an ordinance, except those relating to health and public safety, that are adopted subsequent to the date of submission of an application for development, shall not be applicable to that application for development.
It seems clear that the first provision applies given Hoboken's new regulations were in effect the day before the applicant submitted his application.  And also, the second provision seems to apply as well given Section 196-33.1(I) of Hoboken's ordinance relates to protecting "health and public safety."
Not only were the new regulations in effect when Blue Violets submitted its application, but additional context from the OPRA responsive documents suggests that the application did not have "all accompanying documents required by ordinance for approval" at the time the application submitted, nor even over a month later.  The "all accompanying documents…" being the standard set by the NJ Supreme Court in its ruling on Dunbar Homes vs. ZBA of Franklin Township in 2018.  Specifically, for how to interpret "submission of application" and the minimum requirements needed to benefit from NJ's "Time of Application" state statute. 
Here is another timeline that describes how the application has lacked substantive documentation until only recently, well after the new laws became effective on April 28th:
As of May 2nd, the applicant did not have a NJ licensed lawyer, which is required.
As of May 9th, the applicant did not have its Flood Plan Review letter, which is required. Actually, they hadn't even reached out to the Flood Plain Administrator for it.
As of May 10th, the applicant did not have signage and lighting plans and a traffic report that all were deemed to be important and required.  In fact the applicant said at the completion hearing that evening that he "liked to take the process one step at a time." Nor did the applicant have experienced planning, traffic and legal professionals which are required (and were not identified).  As a result, the Planning Board deemed the application incomplete at its completion review hearing.
As of May 15th, the applicant had still not provided the traffic, signage and lighting plans or identified professional experts.
It wasn't until May 31st, 33 days after the new cannabis laws were in effect, that the applicant finally hired a NJ licensed lawyer (who would then even later hire the traffic and planning professionals).  And it wasn't until June 3rd, that the applicant submitted its signage plan.  As of this writing, it is unclear whether the applicant has submitted all of the remaining necessary "accompanying documents required by ordinance for approval".   Even had Blue Violets submitted in time, following this timeline, its application would still not have met the requirements set by the NJ Supreme Court in order to benefit from the Time of Application.
Whether Blue Violets is a good business or not is not at issue here.  Just it's proposed location and its conflict with Hoboken's laws.  We thank you for addressing this issue.  Feel free to reach out to discuss further.
Parent of a Student at All Saints