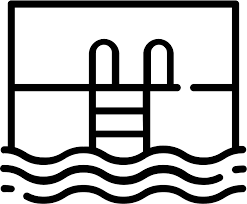 The proposed New High School is being built to include amenities that could be attractive to many Hoboken residents.... if they can access them.
These include a second pool, additional basketball courts, a hockey rink, and even a theatre.  The building design grouped these together so that the area could be secured and operated separately outside of school hours. 
When would the public be able to access these amenities?
The tennis courts would be available like they are now, just one less court.  The BOE will be replacing the three regulation play, public tennis courts that currently exist with two tournament regulation tennis courts that will be shared with Hoboken High School students. 
Basketball, hockey, swimming, and the theatre would be available outside of school hours and would be available for the city and private users.  In terms of basketball, this would reduce access to what is currently a fully accessible, public basketball court.  The Board of Education have indicated that they will offer access outside of school hours to the basketball court at Wallace.... which is already accessible to the public.      
How does the BOE plan to allow community access? 
This was a big focus of a number of residents at the meeting who pointed to the current lack of access to the BOE's gym's, track and swimming pool asking "why should we belive this will change?".  The BOE indicated that they don't yet have plans to manage all external access, but plan to contract with the city and private users for their self-managed programming, with the city having first priority.  A point of frustration with residents was that they wanted to have open access to these amenities and the city has not previously offered this when they offer programs at the current high school.  The BOE indicated they would work towards providing open access to the public in the future.
Do you like this post?
---