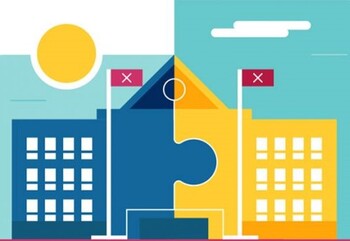 This proposal has an end result of getting two new schools for the district.  
Effectively the total cost is $360 million for two schools, with $30 million of grant money coming from the state to refurbish Demarest Middle School, which is over 100 years old, and reposition it as an elementary school.  Overall, this proposal has the ultimate goal and effect of expanding capacity at the elementary and middle school levels which is where it is most needed. 
Ultimately the plan if the New High School is approved is to:
Move high school students to the proposed New High School with similar capacity;
Move middle school students out of Demarest and into the current high school with better amenities and greater capacity, and
With the $30M grant, fully refurbish Demarest and reposition it as a 4th elementary school with room for an additional 426 K-5th students and 90 PreK students.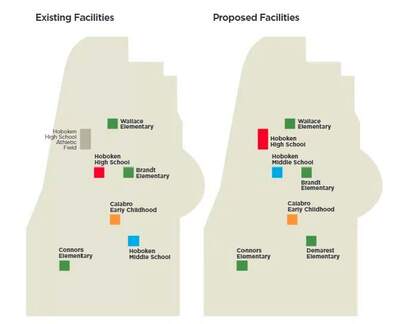 Were other alternatives considered?
I wasn't in those discussions.  But I can tell you I have spoken with Dr. Johnson and some board members many times over the years about capacity concerns and long-term facility planning and know they have been working on it for a long time.  I have directed them to different developers who have large, ground floor spaces that need to be filled as possible locations to move the pre-K classrooms.  Once I saw the actual, crazy enrollment increases, I have also insisted that our various redevelopment plans include education as an approved use and possible community give back.  But expanding BOE's footprint into other, non-owned spaces is difficult at best to accomplish which is why they looked to their owned properties to address their capacity needs.
But can other alternatives be considered?  Can there be a smaller, less intensive and less costly New High School?  Can the BOE purchase land elsewhere and build the new elementary school they so desperately need? Can the current high school be modified and expanded to be a more effective joint Junior / Senior High School?  Can any of the current schools be expanded instead?  Can Calabro be restored to being an elementary school again?  These are a few suggestions that people have sent me.  The answer is I don't know but worth asking about at the next three meetings:
Thursday, Jan. 6th – 7pm in person at Hoboken High School, 800 Clinton
Thursday, Jan. 13th – 7pm Virtual, VIA Zoom (details to follow)
Monday, Jan. 17th – 7pm in person at Hoboken High School, 800 Clinton
Do you like this post?
---