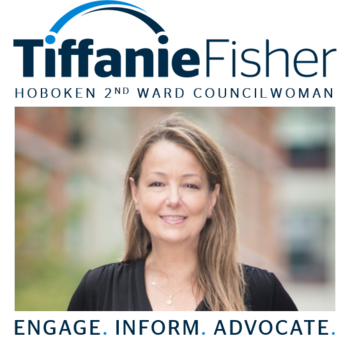 A host of updates in this newsletter on this sunny Tuesday.
2nd Ward Intersection Updates
2nd Ward EV charging stations
Rebuild By Design – Future Stakeholder Meetings
6.2% Tax Increase Approved (not by me)
NEW SERIES: Small Steps Big Impact – Round 2 Resources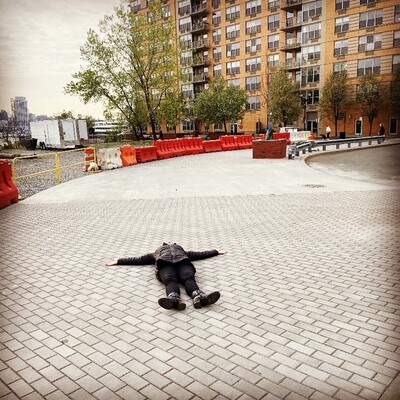 A sidewalk by any other name is just a sidewalk.  But when I look at this one, what I am calling the "Monarch Walkway", I actually get a little emotional.   First, it is just so pretty.  It is so wide open, and inviting and calming.  Such a stark contrast to what was there before.  When I initially asked the administration, immediately after acquiring the site, to build the sidewalk first and fast, and they agreed, I could not have imagined it would look this amazing!  They did a great job and I am thankful to all who made this happen so quickly, especially Hoboken's Director of Environmental Services Jennifer Gonzalez!
My emotional response is more tied to what this "little walkway that did" represents: the first, permanently built, public space on property that was fought for by so many in Hoboken over the past twelve years.  It's now an actual reality.  For Hoboken, this means we are one step closer to completing our end-to-end public waterfront, a fight that started with the epic, David and Goliath type battle against the Port Authority three decades ago – aka 
the Waterfront Referendum
 - that resulted in what is now Hoboken's southern waterfront including Pier A and Pier C.    
For me this also has personal significance of who I am now as a person.  The Monarch battle was my "get off the couch" moment that led me to a commitment to public service.  Not only did I become a staunch waterfront advocate, but also a community advocate and ultimately an elected representative for Hoboken.  And I have never looked back.  From this long battle, I learned the meaning of community, that more voices are always better and that it always takes a village, and our special Hoboken village is stronger than any other out there.  
I am so very proud of this little walkway and the many people who made this happen. 
What is up next for the rest of the Monarch site?
  We need to finish what we have started!  A public planning process for each of the two parts of the site that we expect to kick off later this year – the southern/parking lot section, and then the northern, more natural area that a group of neighbors has already organized an effort around to keep as a natural preserve area.  More to come on both…
2ND WARD INTERSECTION UPDATES
14TH AND HUDSON - 
This is the topic that I have recently gotten the most questions about.  As 
I posted via Facebook live
, this project will complete hopefully by early June.  I spoke to the county engineers and what is driving the timing, believe it or not, is COVID and residual impacts on supply chains.  The main driver to finishing this intersection is the installation of new traffic lights.   The delivery of these materials is what is delayed and having the biggest impact on the entire project.  Unfortunately, installing these new poles and lights is a critical path to the rest of the project.  Each corner will be torn up again to install the new lights, PSEG will then electrify the lights, after which the final concrete can be poured and then the rain gardens can be planted. 
In the interim, I asked the county to fill in the asphalt to make it flush with the street which they did (previously the area that was the former giant curb was sunk about 3" below street level causing tripping hazards).  Also, I have asked the city to review and fix the striping on Hudson and 14th to make sure the new street parking spots that we ordained have been added and can be used as soon as possible. 
Finally, I have asked PSEG, since they are going to be working on the new traffic lights, if they can replace the tipping telephone poles that seem to get worse every year.  They are looking into this now.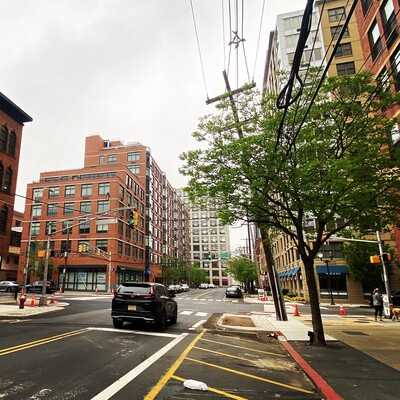 14TH AND PARK – This is a complicated and at the same time often overlooked intersection.  For example, we recently replaced all four of the lights that had been out for over two years because of advocacy from one of our neighbors.  The concern I have heard recently from our neighbors is crossing 14th on the west side while the pedestrian light is white/on, and almost being hit by a car that is traveling south on Park Ave, turning quickly right on 14th.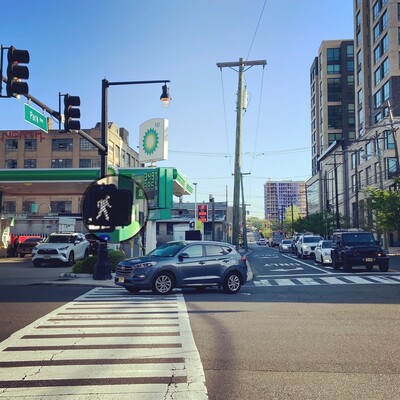 I spoke with the county (it is a Hudson County intersection) and they are going to add, like they did with 14th and Willow, something called a "
Lead In Pedestrian Interval
".  This would give pedestrians crossing the intersection a 4 second head start before the traffic lights turn green which will hopefully improve the safety at this intersection.    
15TH AND WASHINGTON - 
This intersection has a long history of safety concerns and discussions about a potential traffic light there dating back to at least 2014 when I was on the board at HTB, and there were no buildings yet built on the south side of 15th.  Recently, and maybe it is because we are now seeing more traffic back on the roads, I have heard from many about their near miss experiences (
or as George Carlin says, near hit
) crossing this intersection. 
In response to these recent concerns and with the impending Dumbo Market hopefully opening within a year right next to this intersection and bringing what we expect to be a lot of traffic, I have asked the administration and HPU Director Sharp to revisit these discussions.  Dumbo Market is before the Hoboken Planning Board now, just starting the process, and the HPB have asked that they include a neighborhood impact and traffic report with their application.  So hopefully this will converge on some meaningful safety and traffic improvements at this intersection.  More to come…
16TH STREET PIER
This work is expected to be completed by Memorial Day so we can fully enjoy the new walkway and pier this summer!   And I can't wait to see the final product!
2ND WARD EV CHARGING STATIONS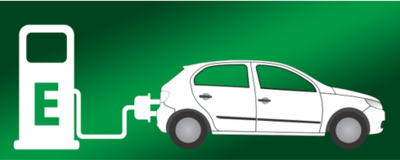 As I have shared with you before, the City of Hoboken has a program with a company called Volta to install on street EV charging stations across the city.  These include both L2 Chargers which require several hours to fully charge a battery, and fast chargers which will charge a battery in a half hour.  With input from you and because many of the private garages in our area either already have chargers or are installing them, I recommended that the 2nd Ward only have fast chargers on street, that they be located together in a group or farm type structure, and that they be actual charging stations not parking spots, allowing for overnight residential parking given they are taking up street spots. 
The current working assumption is to locate at least two, with the hope of adding one or two more to leverage the infrastructure investment, on Bloomfield between 14th and 15th on the West Side of the street, next to the Citibike station.  They would take up 2-4 street daytime parking spots.  We have not yet discussed or agreed times for charging vs. overnight parking, nor the specific pricing structure (generally incentivizing people to leave after 30 minutes of charging). 
Yes, I know these take up street parking.  Please know the original plan was to take up 10 spaces across the 2nd ward, mostly with the slow chargers, which neither I, nor most of you, supported.  But I am ok with having a few, fast, charging-only stations with overnight parking grouped together as a farm.  I welcome your thoughts as we finalize this plan over the next month.
REBUILD BY DESIGN – FUTURE STAKEHOLDER MEETINGS
After eight years of planning, 
Rebuild by Design
, Hoboken's largest, most expensive and extensive, public works infrastructure project in the city's history is expected to finally begin construction this summer.  What will be a $230M+, 100% grant funded project built over a ~24 or so month time frame (soup to nuts), the result will be protecting 93% of Hoboken's residents against the devastating flooding impacts of storm surge events like Superstorm Sandy.  And, we will get a new two-acre waterfront Cove Park as well!
The contractor is close to being selected for the project, and once they are, we will be scheduling public and stakeholder meetings to address how this construction will be managed through the various neighborhoods
 it impacts.  In particular, in the 2nd Ward given its path through and behind several residential developments.  See below how the project winds through much of the 1st and 2nd wards, with a smidge in the 4th ward along Observer Highway.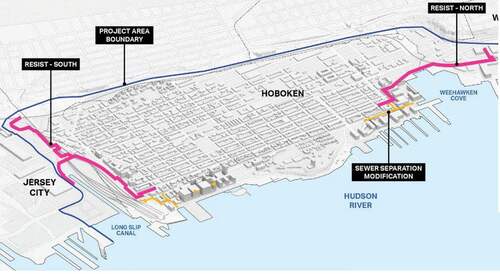 In the 2nd Ward, this construction involves fully shutting down Harborside Park which greatly impacts Elysian Charter School, re-doing the entire intersection of 15th and Garden, and then installing the resist structure adjacent to buildings and along the sidewalks between Garden and Washington, 15th to 13th.
In terms of status, because of the complexity of the project and the back and forth with questions, the contractor has not yet been selected for the project, but we understand that may be in a few weeks.  Once selected, the contractor would still need to put together a project staging plan and assemble the various necessary resources.  This I am guessing will be another 60-90 days given the scale of the project.  The project plan will ultimately be a timeline for all the various components of the project hopefully taking in special considerations for surrounding neighborhoods.
Why did it take so long to plan?  Because it is that big of a deal.  Because it is a complicated project involving so many aspects of design.  And because it was a federally funded project.  
I have been with and have been an advocate for this project since the very start when Mayor Zimmer asked me to be on the Citizen Advisory Group before I was even elected.  In a few years we will see the benefits.  But between now and then, as we finish what we started together, just know that I will be your advocate through what will be an incredibly disruptive process in our neighborhood.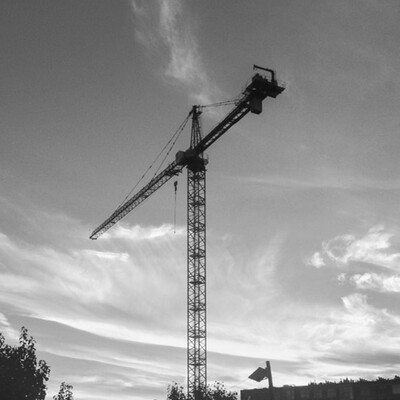 "Western Edge" Redevelopments.  
These constitute Block 112 and Block 106 which are between 13th and 14th on either side of Jefferson.  Redevelopment agreements for each that were negotiated and signed by Mayor Bhalla and came before the City Council multiple times were always approved either by unanimous vote or in some instances 8-1 or 7-2.  Combined, the two projects would have contributed $9M towards a community pool, would include approximately 90 onsite affordable housing units and 18 additional housing units (to the 6 already there) for homeless veterans at Hoboken's American Legion.  And of course, there were plenty of celebratory headlines: 
Hoboken Adopts Western Edge Redevelopment Agreement With Funding For Public Pool, Affordable Housing, Flood Mitigation - Insider Nj
But these projects have been in turmoil for the past year and a half. Union City Mayor and powerful State Senator Brian Stack said they were too tall and would block views in the heights, and Mayor Bhalla, in deference to Stack, changed his mind and unilaterally, without any action by the City Council, decided to no longer support the project and seemingly did what he could to stop it. Ultimately the Hoboken Planning Board declined both projects.  The developer filed a lawsuit in November 2021 against Hoboken and Union City claiming what amounts to bad faith and conspiracy among others, and Senator Stack counter sued, funding it with some of the ~$40M in annual government subsidies he gets from the state to plug Union City's municipal budget. 
1500 Clinton.  
There is a public zoom on this this Thursday, April 27th at 6pm.  Use this link to register for the meeting:  
hobokennj.gov/1500clinton
. This location was originally going to be considered by the administration for the massive, full city block building that would have housed the DPW garage at its base.  But this was completely inconsistent with the North End Redevelopment plan and there were insufficient City Council votes (including me) and little public support for this.  According to the administration's nixle yesterday, the plans have been revised to now include "two mixed-use, residential buildings of eight and 12 stories, open space amenities, and more." I am looking forward to seeing what this revised project now looks like.
1415 Adams.
  There is a public zoom on this this Thursday, May 9th at 6pm.  Use this link to register for the meeting: 
Hobokennj.Gov/1415adams.  This project includes a 5-story commercial building containing a brewery and office space on the upper floors.
6.2% MUNICIPAL TAX INCREASE
PASSED WITH A 5-4 COUNCIL VOTE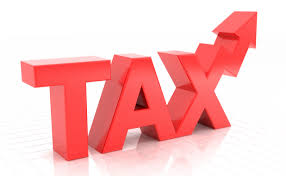 I was one of the four "no" votes.  
This is the first time in eight years, after reviewing the budget in as much detail I was able to with limited information, that I did not provide specific comments to the budget.  Why? because the administration already had the necessary votes so there would have been little support to make any additional, meaningful amendments.
I don't have much to say on this other than I struggle to support a budget for an administration that uses tax payer dollars to run our city more like one long "winner take all" campaign, chasing headlines (just the good ones), instead of a win-win approach that focuses on addressing the needs of a city filled with residents with affordability, quality of life and safety concerns.  Even with this big tax increase, there were insufficient funding for the basics, although less headline friendly, like senior services, fighting the city's growing rat infestation problem or enforcing the city's rent control laws.
Our taxes are made up of (approx.):
33% County

32% Municipal

30% School

3% Library

2% County and Municipal Open Space
With an ~8% School Tax increase (vote is at BOE meeting on May 2nd) and an expected flat County Tax, the total weighted average tax increase for Hoboken residents is expected to go up 4.3% - half of which is attributable to the municipal tax – the only portion the Mayor and City Council control.
While I have your attention on this, did you see the nixle the administration sent out announcing the final 6.2% tax increase supported supported with only a divided council vote?  This is a rhetorical question.

In the spirit of Earth Day (April 22nd), and our growing climate crisis, today I am starting a new series sharing suggestions for small steps that you can do on your own and in your home to make a big impact on our environment.  I welcome any ideas from you to include in future newsletters.
Because of a recent discussion I had with a neighbor, I am going to start with recycling old items in your home with one of my favorite Hoboken based non-profits:  
Round2Resources
.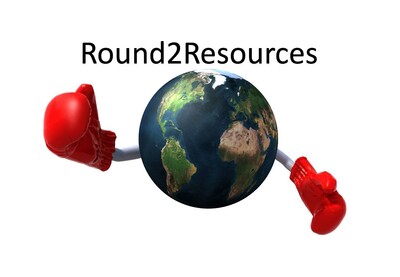 I have mentioned R2R a few times before.  When you think about getting rid of items in your home that you no longer need, my guess is, you don't necessarily think about the environment.  But you should.  Think of the big impact you can make if instead of putting old silverware or a microwave you no longer use in the trash, you actually find it a new home where someone else can use it and love it a little longer and keep these items out of landfills for a little longer.
Round2Resources acts as an intermediary for those that have these items and those that need them – think about recently housed people, refugees, or those displaced due to domestic violence.  These people may have found a new roof over their head, but don't necessarily have the means to fill the rooms and make it a home.  R2R is connected with many non-profits across our region who help these people and they turn to our local community to source needed items. 
So, one way you can help the environment and help your community is re-homing items that are still in good condition, but that you no longer need.  Think about baby and children's items that your kids outgrow – strollers, car seats, clothing and toddler beds.  Or design changes – a neighbor recently donated a table and chair set after she bought a new one that my dad and I delivered to a woman who had been a victim of domestic abuse.  Or even those Wayfair deliveries that you don't want, and Wayfair has said you don't need to return and they will give you a refund anyway.
Round2Resources does not currently have storage for items, so it is more of a matchmaking effort at this time.  But they can arrange for pick-up and delivery.  If you do not already, please follow them on 
Instagram
 and 
Facebook
 where they post stories daily about what is needed.
And you can always message them and ask if they need items you may have.  If you ever have trouble getting in touch with them, just let me know.
Next up… great ways to reduce the use of paper towels…
As always, please share this with everyone you know who may be interested and reach out any time on any issue important to you: 201-208-1764 or 
[email protected]
.   
Hoboken City Council, 2nd Ward
Engage
.
 Inform
.
 Advocate
.
Do you like this post?