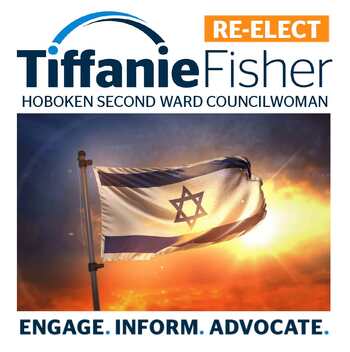 In this brief newsletter:  
Israel - Ways to Help
, and more.
Tomorrow's City Council Debates
An Unexpected Endorsement
2 Question Survey Concerning Parklets
All Schools Open House – Hoboken Family Alliance
FIRST, WE START WITH ISRAEL…
It has been over a week since the horrific Hamas terror attack on Israel.  The loss of lives is staggering, with every story worse than the last.  I know we are united in our prayers for peace.  Like many of you I have spoken with, the tears come unexpectedly -  like on Wednesday morning, at Kings, talking to a neighbor about what is happening and inquiring about friends and family affected.  As we spoke, a woman turned to us and said "I came from Israel last night…"  She told us her story, waking up to sirens, not knowing what was happening for hours, wanting to stay to support her friends and family, but coming to Hoboken at the urging of her daughter to be safe and close with her grandchildren who live here.  We sobbed and hugged her.  Repeatedly.
I am once again touched by our community, and how much we support eachother and come together in times of need.  Last week's vigils at both the United Synagogue of Hoboken and Pier A, were moving and accomplished the goal of showing support for Israel and the many innocent victims of Hamas' terror, as well as bringing together thousands in our community to stand united during this time.
Many have reached out to me asking how to help.  I spoke with my neighbor who is one of the four incredible moms who organized last week's vigil.  She said they are putting together a list of organizations – many who are already overwhelmed with generous donations – and will get it to me when she has it.  Until then I have put together the following short list from various sources, including USH:
Magen David Adom

:  Israel's medical first response and emergency services and representative to the International Red Cross.  

Magen David Adom - AFMDA
International Committee of the Red Cross 

an impartial, neutral and independent organization whose exclusively humanitarian mission is to protect the lives and dignity of victims of armed conflict and other situations of violence and to provide them with assistance. Established in 1863, the ICRC is the origin of the Geneva Conventions and the International Red Cross and Red Crescent Movement.  Present in Israel and the occupied territories since 1967 and work with the Palestine Red Crescent Society and Magen David Adom in Israel. 

Israel and the occupied territories | The ICRC's actions
Jewish Federations of North America

 provides funding for range of organizations supporting victims of terror and other societal challenges faced by Israel as a result of this crisis.  

Israel Emergency Relief Fund (qgiv.com)
American Jewish Joint Distribution Committee 

is the world's leading Jewish humanitarian organization, working in 70 countries to save Jewish lives, support Israel's most vulnerable populations, and lead the Jewish community's response to disasters and crises around the world, giving care and comfort to those most in need.  

Donate to JDC | Israel Emergency Response
I will share more ways to help when I have them.  Feel free to reach out to me with any local efforts you are aware of.
TOMORROW'S (10/17) CITY COUNCIL DEBATES
Tomorrow is the second set of City Council debates hosted by Steve Lenox of TapInto Hoboken and Peter Biancamano of 
The Pulse with Peter B
 (click for a recent interview I did with The Pulse – starts at minute 10). They will be held at Demarest Middle School at 4th and Garden.  I hope you can join in person – I can tell you seeing friendly faces in the audience is helpful and appreciated!  But if you can't be there in person, you can stream live here:  
http://www.facebook.com/TAPintoHoboken
  The first debate is 6-7:30 for wards 1, 2 and 4.  The second debate starts at 8 and is for wards 3, 5, and 6.  See below for details.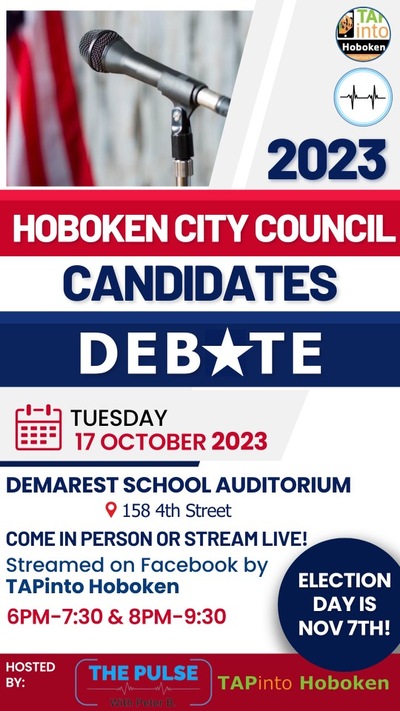 AN UNEXPECTED ENDORSEMENT
Last week, Hudson County View hosted two nights of debates, with the 2nd Ward debate last Monday night.  You can watch a replay of the debate here:  
Debate Replay
.  
At that debate that included the 6th ward candidates as well, we discussed such issues as rats, Union Dry Dock, the potential for Mayor Bhalla to run for Congress, campaign finance, affordability and more.  To my (and everyone's) surprise, one of my two opponents – Patti Waiters – announced that although her name still appears on the ballot, she will not be seeking support for City Council, only for BOE, and that she fully endorses my candidacy for City Council.  Patti is a long time Hoboken resident and activist on many important issues in our community and I am incredibly appreciative of her support.    
2 QUESTION SURVEY CONCERNING PARKLETS
In response to the city's rat crisis, the City Council are voting Wednesday night on an ordinance sponsored by Councilwoman Giattino and me that will prohibit new applications for Parklets - the platform structures built adjacent to restaurants for outdoor dining (as opposed to StrEateries that are often turf and level with the street).  Existing Parklets will remain and be allowed.  I would like to know your thoughts on this so please 
CLICK HERE for a 2 QUESTION SURVEY:
 What are your thoughts –

I agree – stop new ones but allow existing until the rat crisis is controlled.

I disagree – I am fine with more parklets

I think we should do more to get rid of all parklets.

Where do you live - just to get an idea if the view is different in different areas of Hoboken.  If not comfortable with exact address put your ward or your block (3rd & Adams, etc.) 
For anyone who has questions about PreK – 12 schools for their children, this is an amazing event.  I try to attend each year just so I am current on the educational offerings.
Date:         Friday, October 20th
Time:         11am - 2pm
Location:   Hoboken Grace Church Community Center (409 14th St, Hoboken, NJ).
The following schools are confirmed and the Hoboken Family Alliance is suggesting an admission fee of $10 per family to support its non-profit organization (which is a great Hoboken organization to support).
All Saints Episcopal Day School

Brandt Elementary School

Bright Horizons

Connors Elementary School

Delbarton School

Dwight-Englewood School

Elysian Charter School

Franklin School

Hoboken Catholic Academy

HOPES Preschool Program

Hoboken Charter School

Hoboken Dual Language Charter School (HoLa)

Hoboken High School

Hoboken Middle School

Hudson Catholic Regional High School

Kaplan Preschool

Mile Square Early Learning Center-Preschool Program

Smart Start Academy

Stevens Cooperative School

Tessa International

The Learning Experience

The Hudson School

Wallace Elementary School

Waterfront Montessori
---
If you see Councilwoman Jen Giattino today (probably out door knocking in the 6th Ward) be sure to wish her a Happy 39again!  Or send her an email at 
[email protected]
.
As always, please share this with everyone you know who may be interested and reach out any time on any issue important to you: 201-208-1764 or 
[email protected]
.    
Powered by YMLP.com

 

 
Do you like this post?
---