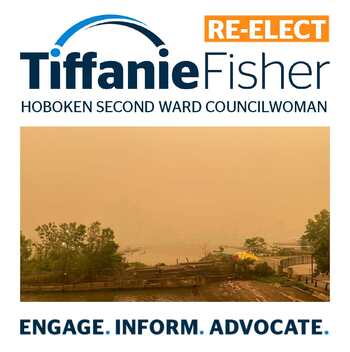 Today is a good day to just stay indoors. 
The smog you are seeing and in the picture above that I took about 30 minutes ago, is being generated from 
forest fires in Eastern Canada
 and is causing our Air Quality to be in dangerous levels.  This screenshot is from 3pm today.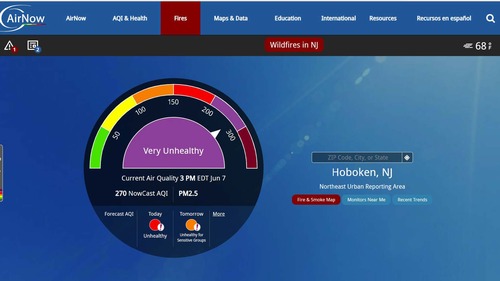 So please stay indoors, especially if you are older or have any heart and lung issues.  The City Council meeting is being rescheduled to Monday, June 12th.
 
For the past several hours the AQI has ranged from harmful to hazardous.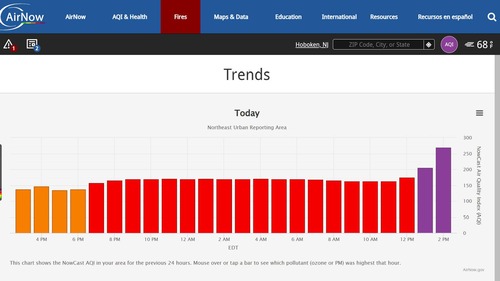 Specifically, the PM2.5 measure is extremely high, which in short is the amount of small molecules that are in the air are very high, and these molecules can get into our lungs and circulatory system and cause damage if exposure is prolonged.  The 
NJ DEP has declared an Air Quality Action Day for Particulate Matter for tomorrow, Thursday, June 8th and expect levels of fine particles to remain elevated for the sensitive groups category through Thursday.  
This is a good summary prepared by the NY Department of Health about PM2.5 
Fine Particles (PM 2.5) Questions and Answers (ny.gov)
You can track Air Quality Index on your own on a number of sites.  I have been using these for guidance:
The administration put out a helpful infograph about what you can do: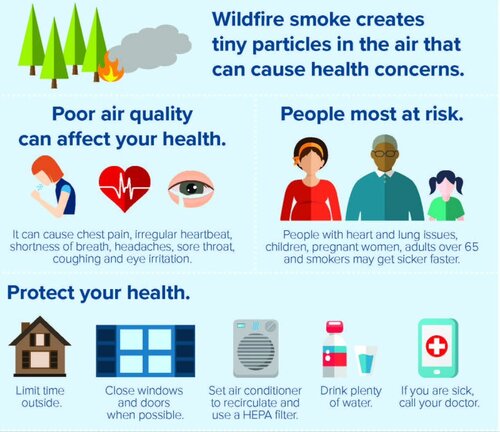 I will tell you, and I know many don't want to hear this, that I am once again donning a mask if I need to go outdoors (which I do to walk my dog).  I didn't feel that one surgical mask worked at all so I used two and just found an N95 I had stored away just in case.  Do what works best for you. For me it is staying inside and if necessary, creating as much of a barrier as possible against the elevated PM2.5 when I need to go outdoors.  
***IMPORTANT:  If you don't feel well, call your doctor. 
---
Do not hesitate to reach out if you have any questions.  I will do my best to get your answers and stay informed, as I always do.  
As always, please share this with everyone you know who may be interested and reach out any time on any issue important to you: 201-208-1764 or 
[email protected]
.   
Hoboken City Council, 2nd Ward
Engage
.
 Inform
.
 Advocate
.
Do you like this post?
---